Name:Strong Future International (SFI)
Website:SFI
Founder:Gery Carson
Cost:Free
 Introduction
What is SFI?
---
SFI (Strong Future International) is an e-commerce business that has been around since 1998 and has grown remarkably over the years. Starting out with just one product, SFI has now grown to more than 80,000 products and services that are sold in more than 190 countries around the world. The founder of this company is Gery Carson, he is also the CEO of SFI but before the creation of SFI he was a top marketer and record-breaking distributor for several direct sales companies and a successful business magazine publisher. So you can see why SFI has survived the test of time and has grown so much over the years.
Gery Carson
SFI not only sells a wide variety of products but also gives anyone with a computer and internet connection the opportunity to build a team, start a business and, of course, make money online. Getting started with SFI is completely up to you and there are no hidden fees or purchases that you have to make if you do not want to. Anyone can join SFI once they are of legal age in his or her country and signing up is totally free of charge.
Love card games? Play the NEW CARD KING game at TripleClicks! Play FREE daily for great prizes, badges, and a share of today's Zackpot! Details at: TripleClicks.com
How To Make Money With SFI?
---
 SFI gives you several ways to earn with them and I will share them with you. Now keep in mind that SFI is not going make you money overnight, this business requires some training, understanding, persistence and patience to start earning money. So now let's get into the different ways to earn with SFI:
1) Direct Commission- Direct commission is commission you earn from individuals that you have referred to SFI or referred directly to TriplClicks.com and they have made a purchase at the Tripleclicks store. So let's say you joined SFI as an affiliate under me and decided to make a purchase at TripleClicks.com or you saw a product I was promoting from TripleClicks.com and you decided to place an order there. With every purchase you make i will earn 45% of the commission value of each product plus VersaPoints which helps build my rank and increase my earning power.
"To start earning Direct Commissions, just start referring TC members and sponsoring SFI affiliates."
 2) TripleClicks Executive Pool- SFI has something called VersaPoints(VP) which are simply points that affiliates can earn when they perform a list of tasks every day. The more VersaPoints you earn each month the more SFI commissions you can earn. For each of those VersaPoints you accumulate you will earn one share from the TripleClicks Executive Pool which is part of the companies shares. To earn even more shares you can become a team leader.
 "To earn shares in the TripleClicks Executive Pool, just accumulate VP by doing the actions on your SFI To-Do List"
3)Co-Sponsor Commission- As a co-sponsors at SFI you can earn 15% commissions on all affiliates that are assigned to you whenever they make a purchase at TripleClicks.com. Co-sponsor position is assigned to you by SFI Corporate when you gain 1500 VersaPoints every month. When you earn 1500 VersaPoints you will now be qualified to be an Executive Affiliate (EA) and a minimum of TWO (2) Co-Sponsor Affiliate will be allotted to you. Keep in mind that you need to maintain your EA status every month by gaining 1500 VersaPoints otherwise your Co-Sponsored Affiliates will be forfeited.
4) TCredit Bonus- TCredits are considered currency for the TripleClicks store.With TCredits you can play Eager Zebra games and win giant TCredt jackpots or you can use it to bid at the Pricebenders Penny Auctions on hot, new, brand name products in electronics, kitchen gear, tools, home and garden, silver and gold bullion, gift cards,the latest movies etc or you can sell stuff you no longer want by listing them on TripleClicks.
5) ECA Referral program- ECA means E-Commerce Associate which is a program that  allows commercial sellers and companies of all kinds, from around the world, to market their products and services side-by-side with the products and services that are sold at TripleClicks.com. It's totally free for ECA's to list their products and take full advantage of the exposure. As a member of SFI you can refer companies and earn 10% on all of their sales at TripleClicks plus 100 VersaPoints when they make their first $10 or more in sales.
6) SFI Pay Per Action- This s optional but you can earn $10 by simply referring others to SFI. Once your referral has completed the sign-up process SFI will pay you $10 for each qualified sign-up.
So How Does The SFI Affiliate Program Really Work?
---
As stated before SFI is totally Free to join. The only time you are required to spend any money is when you are asked to place a Standing Order. A Standing Order simply means that you have chosen to have certain products delivered to you every month from the TripleClicks store. This isn't something you need to do but i would totally recommend it because you get more perks like discounts, earn 1500 versa points with your purchases each month and get 100 more, earn Executive Affiliate status and earn even more commission.
SfI provides you with the necessary knowledge and training you need to get started. I wouldn't lie but there are tons of information there that can literally send you crazy so you surely need to take your time and go through the training to understand the know about and what you need to do.
The heart of SFI is the TripleClicks store where you can advertise any product you want and earn a commisson with every sale you make.Even if you have your own products to sell this would be great opportunity to get your products in front of millions of people for totally free.
Earning money with SFI will take some time so if getting quick money is your thing this program is definitely not for you.
All you need to do if follow the training and take in as much information as you can and simply put what you have learnt into action. So all you are basically doing is:
Earning VersaPoints which is the simplest and easiest way to earn money plus to attain higher status in the business.
Start generating sales at TripleClicks.com by promoting products or your own products.
Increase your income by sponsoring others and duplicating what your have learned with your referrals.
Pros and Cons Of SFI
---
 Pros
It is totally free to join.
Free online and offline marketing tools
SFI offers six different ways you can earn money.
You can bid on their auctions for brand name merchandise and resell it on eBay.
When you refer someone to SFI or TripleClicks.co m and they sign up they become your affiliate for life once you remain active.
They have several payment option such as PayPal, direct deposit, a mailed check, or through their Payoneer debit card. They always pay on time.
Your business and income can be willed to a family member.
Get to meet a community of people and build a team.
Cons
It would take a little while to actually make some good money.
Supporting other affiliates can be challenging as a newbie.
If you don't invest you will take much longer to succeed.
 You need to maintain at least 1,500 VersaPoints every month to keep your Executive Affiliate status plus you will lose all of your Co-Sponsored Affiliates.
Some products can be overpriced at the TripleClicks store.
My Final Opinion
---
 SFI is a great business opportunity for anyone who seeking to do serious business online. Do not let others discourage you before you even decide to give this program a chance. It's totally No Scam so you don't have anything to loose here. Even if you don't want to gain ranks or status in SFI you can simply promote products that you know of and like and make your life a whole a lot easier. If you do decide to promote their products and you wish to get a website to do reviews and display products you can get two free websites here. Always remember that earning money is never easy at first you need to put in the work to get the results you desire. To get started with SFI click the button below.
If you had experience with SFI or is currently a member at SFI and would like to share your experience? You can do so in the comment section below.
 Thank You,
Kind Regards,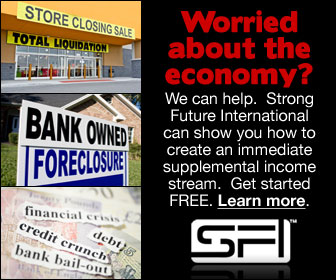 ---
Other posts